HEALTHY TEETH,  A LIFETIME INVESTMENT!
Your teeth are the first thing people notice when they look at you! Don't let brown spots, plaque, and tartar mess up that moment.
Densine™ is a pain-free dental scaler recommended by dentists.
Professional cleaning lands in your house.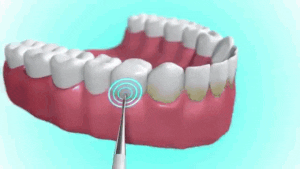 TOOTH CLEANER ALLOWS YOU TO:
✔︎ Remove brown spots, plaque and tartar.
✔︎ Keep your breath fresh.
✔︎ Get whiter teeth.
✔︎ Use Tooth cleaner comfortably in your bathroom.
✔︎ Waterproof
EXCESS OF TARTAR IS RESPONSIBLE FOR 78% OF DENTAL PROBLEMS
Brushing your teeth everyday is not enough. Tartar, if not removed regularly, can lead to serious consequences such as inflammation, bleeding and cavities.
TECHNOLOGY USED
Tooth cleaner uses gentle vibrations to remove plaque and tartar.
Equipped with 5 adjustable intensities in order to adapt the scaling to your teeth's sensitivity, for an optimal and painless result.
Easily reaches all your teeth thanks to its ergonomic construction.
SIMPLY BE DAZZLING ✨
Remove coffee, tea, wine and tobacco spots to help keep your breath fresh and give you a confident smile.
PRODUCT CHARACTERISTICS:
Rated voltage: 5V
Rated current: 500mA
Train position: 5
Files Integrated lithium battery: 3. 7V
Waterproof rating: IPX6